Editing, Coaching, and Marketing for Authors
---
Recent Editing and Assisted Self-Publishing Projects
---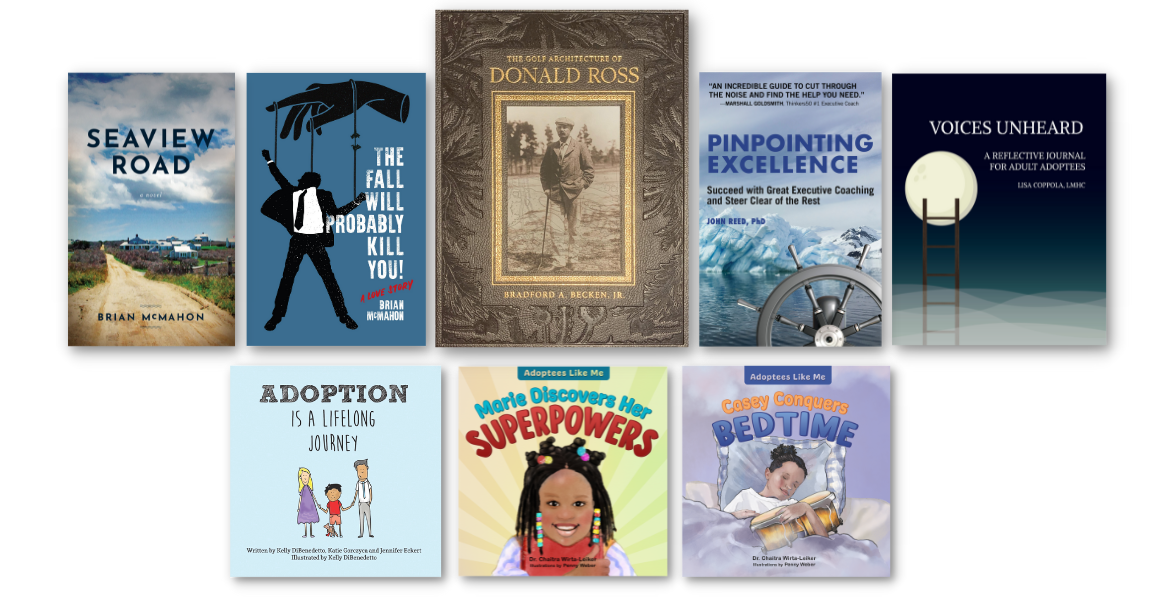 For twenty years as a provider of author marketing services, I've helped sell books. Millions of books. I've watched clients' books hit The New York Times Best Sellers list 57 times, and each time is as exciting and energizing as the last one!
My expertise runs the gamut from editing manuscripts to long-term author brand management. I've supported fiction and non-fiction titles for St. Martin's Press, Doubleday, Simon & Schuster, HarperCollins, Random House, and Penguin.
As the self-publishing market has grown, I've brought non-fiction, novels, and children's books to life by working with authors from the manuscript phase to book publication. Wearing my editor's hat, I step in during the first draft stage to shape and polish manuscripts, adding value with my deep understanding of readers and the book market, while always honoring the author's vision. After the editorial phase, I walk authors through publishing decisions, market positioning, the production phase, and the buildup to the most exciting day of all: book release day.
Why self-publishing? Self-published authors have complete control over their manuscript, cover design, and illustrations. Importantly, self-publishing avoids delays inherent to finding an agent and navigating years-long publishing house queues. And while traditional publishers can (and do) take books off the market at their whim, self-published authors know their work will always be available to readers.
Do you have dreams of becoming a published author? If so, I can answer questions like these:
Will my manuscript appeal to readers?
How do I turn my first draft into a print-ready book?
How do I publish my book?
How do I establish an author platform?
How do I grow a reader fan base?
What should I feature on an author website?
If you have a first draft in hand and would like to see if we would work well together, please use my Contact form and tell me as much about your book as possible. Upon review, I will respond and offer a free initial consultation if it seems appropriate.

Member of ACES: The Society for Editing
"Lucy is able to balance precision and creativity in a way that keeps my momentum as a writer rolling throughout the process. She's a great editor of minute details—word choice, how sentences flow, and so on—but she's also constantly aware of the overall story's shape, pace, and effectiveness. She's quick to understand a writer's nuances and preferences, and she's got a great sense of how well a sentence, scene, or plot element will work for future readers. She has worked on two very different novels with me, and I think her skill set would translate to many styles of writing, and to many styles of writer. Lucy is responsive and resourceful thanks to her blend of experience in editing and marketing."
—BRIAN MCMAHON, NOVELIST, RECIPIENT OF KIRKUS STARRED REVIEW
"As an author trying to navigate the complex journey of self-publishing a children's book series, I could not have imagined a better guide than Lucy. Her knowledge of the process, from editing the initial manuscript to choosing illustrators and designers to marketing on various platforms, was unparalleled. The quality and timing of her communication throughout the entire process was outstanding, and it clearly reflected how passionate she is about supporting the success of self-published authors. She designed a website that showcased my books in creative and practical ways, and the advice she offers for writing and marketing is a treasure. I cannot recommend her highly enough!"
—CHAITRA WIRTA-LEIKER, AUTHOR OF THE "ADOPTEES LIKE ME" EARLY READER SERIES, PSYCHOLOGIST (2023 after book #2)
"As I worked with Lucy, I felt like I had a project partner as she really was right with me in the process. She understood my hopes and dreams for my book and she came with the knowledge and expertise to guide me consistently in the right directions from the start. Lucy asked me the questions I couldn't quite gather myself that I truly needed to reflect on and answer in order to continue moving my project forward on several crucial occasions. She held my memoir in her mind with care at all times while simultaneously using her marketing knowledge to get me where I wanted to go with my prospective audience. I totally recommend her services. I wouldn't have wanted to work with anyone else!"
—LISA COPPOLA, LMHC, AUTHOR OF A REFLECTIVE JOURNAL AND AN UPCOMING MEMOIR, MENTAL HEALTH CLINICIAN
"I have plenty of experience with editors, publishers, social media and related professionals. Put simply, Lucy stands out as extraordinary! I am so fortunate to have her support and guidance. Here are just a few of many strengths that differentiate her. She has exceptional attention to detail in improving clarity, leanness and grammatical quality while at the same time applying impressive creativity and impact as a wordsmith expert. She understands how authors - who understandably can be engrossed in the minutia of their topics - at times benefit from an additional perspective on the needs and priorities of their target audience. Her ability to adopt the lens of the marketplace to strengthen a manuscript is invaluable. Then, as a book is ready for release, she applies subtle yet powerful steps to position and, over time, reposition a publication optimally in dynamic, multi-channel markets."
—JOHN REED, PHD, AUTHOR AND EXECUTIVE COACH
"As an author who is navigating the self-publishing process for the first time, I appreciate how much Lucy has been an incredible resource. She offers knowledge, expertise, and transparency based on years of experience in the publishing industry, providing step-by-step guidance and honest assessments that encourage realistic expectations. She pairs this with genuine enthusiasm for projects, giving authors the hope and passion necessary to remain engaged in the process. Her ability to remain present and flexible with an agenda that never veers away from the final vision makes me feel confident and supported."
—CHAITRA WIRTA-LEIKER, AUTHOR OF THE "ADOPTEES LIKE ME" EARLY READER SERIES, PSYCHOLOGIST (2021 during development of book #1)
"Terrific as editor and a pleasure to work with."
—BRADFORD A. BECKEN, JR., AUTHOR, FORMER PRESIDENT OF THE DONALD ROSS SOCIETY
"I engaged Lucy to edit my first book - Press Go! Lessons Earned by a Serial Entrepreneur - and she did an exceptional job with that. But she became so much more – a partner that guided me through every aspect of creating, producing and marketing a book that I'm very proud of. Someone who was always available to address a concern or steer me clear of a potential pitfall. Lucy cared deeply about the success of my project and I could not have done it without her."
—BILL SEIBEL, AUTHOR, SERIAL ENTREPRENEUR, INDEPENDENT BOARD MEMBER
"Lucy worked with me to map out the most impactful steps we could take before my new book came out. She brought great expertise and took a big-picture approach: publicity, events, social media and website updating. And then worked with me to prioritize the campaign in a way that suited my needs. With her wealth of knowledge of book marketing and strategy, and her love of the written word, she brings a rich view of publishing - and can share it with authors in a way that is approachable and supportive. I'd recommend that any writer (or other small business owner) see what she can do for their project."
—DAVID A. TAYLOR, AUTHOR AND WRITING INSTRUCTOR, JOHNS HOPKINS UNIVERSITY
"Lucy played an instrumental role in bringing my first book, Seaview Road, to life. Her combination of skills—in marketing, editing, and other areas—makes her an invaluable asset for writers looking to improve and promote their work. She is a great communicator, and she understands people and their consumer behaviors. Easy to work with, brainstorm with, and learn from! Simply put, Lucy has the skills to help your project, business, or nonprofit grow and accomplish goals. Get an idea in place, and she will take you where you need to go."
—BRIAN MCMAHON, NOVELIST
"Lucy helped me through a process of editing a pitch, synopsis, and book proposal for my memoir. I was struggling with boiling down what I had written to just a few sentences and identifying its core meaning and themes. She didn't tell me what to do. She asked deep, intriguing questions and led me through exercises which led me to a final answer I could be confident about. She may have known the answers all along, but finding a way for me to answer these questions for myself in the end helps me own the answers even more. I am confident in the final product in a way I wouldn't have been otherwise. I enthusiastically recommend her services."
—MEBANE BOYD, RESILIENCY TASK FORCE COORDINATOR AND MEMOIR WRITER
"I am very happy to recommend Lucy Davis for her marketing and communication skills. She recently worked with me to promote my new book. Lucy is very savvy regarding social media and an expert on marketing books. She was great to work with — she understood my project and was very supportive. Lucy provided me with patient explanations and was persistent in following up with third parties. She was attentive to detail and responded to my communications and requests promptly. This was a terrific working relationship and one I plan to continue in the future."
—JEAN ELSON, PhD, EMERITA AT DEPARTMENT OF SOCIOLOGY, THE UNIVERSITY OF NEW HAMPSHIRE, AUTHOR
"I feel like this is a little masterpiece that has been edited with such care."
—MEGAN, A GUEST BLOGGER FOR A NONPROFIT CLIENT, remarking on Lucy's blog editing skills
"As a first-time author also running a busy consulting practice, I've found that Lucy has been invaluable in guiding me through the maze of necessary steps to attract the attention of publishers. She has exceptional skills in marketing, website optimization, manuscript preparation and practical knowledge based on years of experience working with various types of authors. She is encouraging, extremely hard working, genuine and sincere. It is a pleasure to work with someone with such outstanding professional skills and personal qualities."
—DR. MARK TOBIN, PRINCIPAL, THE TOBIN COMPANY, AUTHOR
"My publisher suggested I needed a 'Facebook presence.'  Okay.  But what did that mean?  And a fan page?  And how...?  I'm a novelist, but to make a long story short, Lucy Davis of MarketNext Communications got me up and running.  She also advised me about practices and subtleties of social  networking that would have taken me decades to master.  She was direct, understandable, and offered sound counsel.  I'm so glad I had her guidance."
—SUSAN ISAACS, NEW YORK TIMES BEST SELLING NOVELIST AND SCREENWRITER
Ready for help navigating the marketing world?